On Friday, Bill Morneau, Minister of Finance and Member of Parliament for Toronto Centre and  Steven Del Duca, Ontario Minister of Transportation, announced up to $333 million in federal funding for the Finch West Light Rail Transit (LRT) project. The Finch West LRT  amounts to a $1.2 billion investment from the Government of Ontario into the City of Toronto's transit infrastructure.
"The governments of Canada and Ontario are working together with municipalities to invest in important public transit infrastructure projects like the Finch West Light Rail Transit Project that will help reduce congestion and get middle class Canadians home to their families quicker," said Minister Morneau.
The Finch West LRT project will include the design and construction of 11 kilometers of light rail transit line along the surface of Finch Avenue. The rail line will run from the new Finch West Subway Station on the Toronto-York Spadina Subway Extension at Keele Street to Humber College. The project will also build 16 surface stops, a below-grade terminus stop at Humber College, an underground interchange station at the TTC's Finch West Subway Station, and a maintenance and storage facility for the light rail vehicles.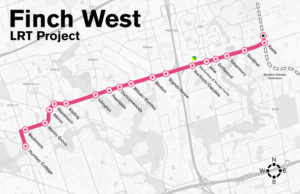 Minister Del Duca said of the announcement: "I'm very pleased that the Government of Canada is partnering with us to deliver the Finch West LRT. The $1.2 billion investment to build the Finch West LRT is funded as part of the more than $8.4 billion that Ontario has committed to building rapid transit in Toronto to manage congestion, connect communities and give people more travel options."
The LRT service improves current transit infrastructure by moving more people faster through the Finch West corridor than the existing bus service. It also connects regional transit infrastructure by linking to GO Transit bus services and Mississauga and Brampton local bus services.
The post $333 million from Feds to Finch West LRT appeared first on ReNew Canada.